Some industries have a reputation for being slow to change and resistant to innovation, holding onto outdated practices long after they've become obsolete. Renovation is one such industry. For years, homeowners and businesses have had to deal with the frustration and inconvenience of renovation projects that seem to drag on forever, with outdated methods and technology causing delays and cost overruns. But times are changing, and there is a growing movement to modernize the renovation industry and bring it into the 21st century. With a set goal to bring innovation, Chapter launched a new client portal that will modernize the renovation industry and make the experience fast and simple for clients.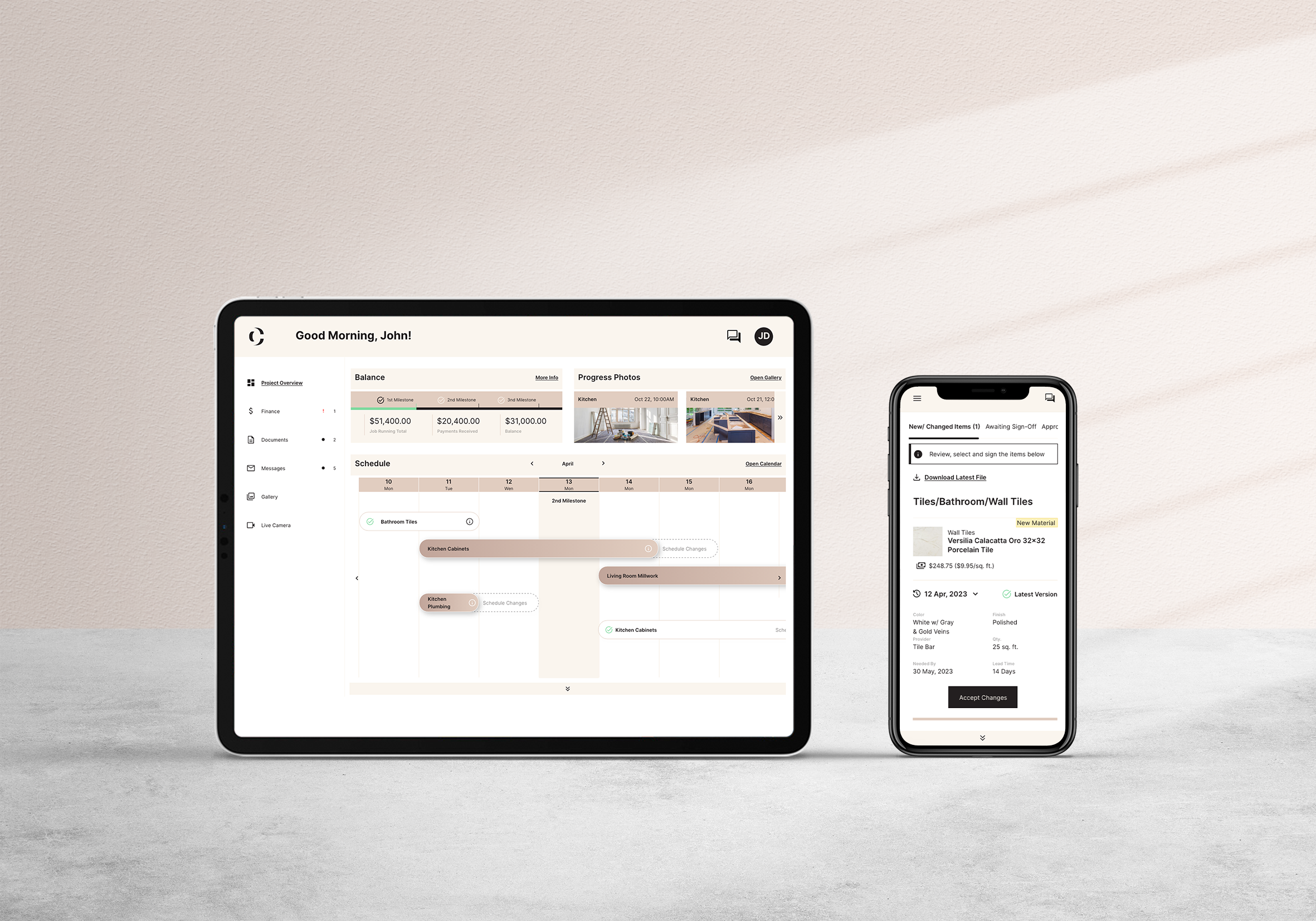 What is the client portal?
It is a secure online platform that gives our clients real-time access to their renovation project info. This includes project schedules, daily progress photos, and important documents all in one convenient location. The client portal is accessible from anywhere, at any time, on any device, so you can stay up to date on your renovation project no matter where you are.
Here is how it can make your project experience better:
1. Centralized Communication
The main benefit of the client portal is that it makes the renovation process easier, faster, and more convenient. Instead of having to call or email your contractor to get updates on your project, you can simply log into the client portal and see everything for yourself. You can also communicate with your project manager directly through the platform. This saves you time and ensures that you are always in the loop.
2. Everything You Need In One Place
Another advantage of the client portal is that it provides a secure and centralized location for all your project info. No more searching through emails or losing important documents, everything you need is right at your fingertips. This not only makes the renovation process easier, but it also helps reduce the risk of mistakes and miscommunications.
3. Financial Information
You'll also have access to all your financial information, including invoices and payments, through the Client Portal. This makes it easy for you to keep track of your expenses and ensures that you always know where you stand financially. And with the ability to communicate directly with your project team members, you'll never have to worry about miscommunications or misunderstandings.
4. Select Your Materials
Conveniently browse and choose from the range of materials available for your project. You will have access to detailed descriptions and pictures of each option, providing you with a clear understanding of what you are selecting. Making any modifications to your selection is also easy within the portal. No more flipping through catalogs or visiting showrooms. You can communicate directly with your dedicated interior designer from Chapter within the client portal, ensuring that you get everything you need.
5. Stay Informed
You will be able to stay up to date with your project schedule, review daily progress photos, access important documents at any time, and much more! We have worked hard to make the client portal user friendly, so you can focus on the exciting parts of your renovation instead of worrying about the details.
At Chapter, we are dedicated to making the renovation process as seamless and stress free as possible for our clients. That is why we are thrilled to announce the launch of the client portal. Whether you are planning a renovation, in the middle of a project, or wrapping up, the client portal is your one-stop-shop for all things renovations.
We cannot wait to share the client portal with you and help make your reno experience as smooth as possible. Stay tuned for our future blogs where we will dive deeper into the features and benefits of the client portal!